I moving to America from Japan with 15 years old, entered into the university of Washington DC 4 years later. Then up to 25 years old 7 years were passed with Washington DC. The desire which becomes great and, on the other hand absurd insecurity it kept going on a journey to the chest. Life starts from now on. There is a road where this first I should advance. So although thinking, by your completely in the future you cannot imagine you were.
Plate [makurakuran] going lively at the time of university first grade, "this is my destiny!!"With feeling, it determined that you aim toward music. Even then, it did not go very well and [te] many years were perplexed. Romantic love and unrequited love, loneliness, music and dream, home. It has linked to the cherry tree which is in the Potomac river paralleling which is in the vicinity of the apartment where everything has lived that time. Looking at whatever degree same view, frame of mind just is different was visible in another world. 7 years which were passed with Washington DC were my youthful days.
That becoming, now they are age of "cherry tree color".
While also everyone remembering his own youthful days, because there was yourself of that time, without forgetting that current by his is, we want, is.
Way memory of everyone it dyes to "cherry tree color". . .
The photograph, when now weekend recording "CDTV" of on air, is the thing. News item of the second photograph looking at "CDTV" to end, - does with the pleasure!!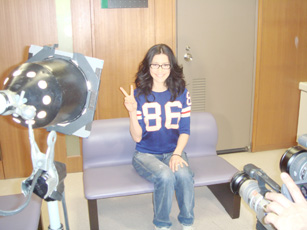 More Coming.
ピーターAKAレーザーディスク夢
_____________________________________________________________
Keep on Dreaming all life!
-Angela Aki-