A reminder:
The venue
The Abbey Tavern
124 Kentish Town Road, London
NW1 9QB Tel: 020 7267 9449

Opening times
Saturday: 12 midday – 1am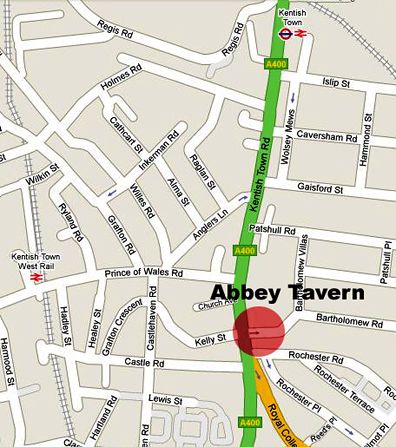 Fans attending, so far:
Jacob Pertou (Jacob)- Denmark
Gary Jenkins (Hyperboreauk)- UK
Darren Meredith (Alipaul)- UK
David Foster (Fozziebear)- UK
Jon S (Bigmoog)- UK
Carmen (Dolphin Dance) & Tim (Timer) UK
Fabien Dumay-Holland
Dave Houghton (Bigdaveh)+2- UK
Ian Catherall- UK
Andy Humphries- UK
Ron (prophet5) & Deb Barrett- UK
Richard Neil (wayfarer)- UK
John Hirst- UK
Chris Mcgarel- UK
Conrad Gibbons (TangfanIrl)- Ireland
Rosie Gibbons- Ireland
Geoff Keogh (Taximan)- Ireland
Tommy- Ireland
Graham Coutts--UK
Stuart Mcdonald-UK
Stale Tandberg (Tangerman)-Norway
Heiko Heerssen-Germany
Stephen Manship (Billy The Fish)-UK
Stephen King-UK
Christine, Helen & Theo (Batman)-Greece
Andrew & Liz Cocker-UK
Tim Richardson-UK
Doug & Marilyn Graham-UK
Phil & Adam Corbett-UK
Alan Miller (diamonds n dust)-UK
Peter Jeal (Redziller)-UK
Jorg Jankowitsch-Germany
Dennis Moore-South Africa
John (Wolfman) & Adrian-UK
Chris Newman (Janus- TDFZ & Cath)- UK
Enrique Moes Borrigo--Spain
Tony Cholerton-UK
Louise Day-UK
Jonathan Thompson +1 UK
Graeme Clark-UK
Neil Price (Jollyhawker) & Lisa & Matthew (Wales)
Glyn Richards (Glyn Richards)-UK
Dan Ferna (No Gravity) & Minni-Lisa (Sweden)
Stein Erik Finne (Bergen-Dreamer)-Norway
Steve May (Raystorm) +1-UK
Eric & Sonia---France
Andy(24db) & Nickie-England & Scotland
Mac (Macuber Transfer)- UK
Matthew Williams (Cantosis)- UK
Kevin Ball + 1-UK
Ian Pomeroy + 1-UK
Julian Broome--UK
Peter de Blecourt-(pb2rdf)--Holland
Aaron Mcphee---UK
Charles Coursaget---France
Julie & Colin (epsilon75)-Wales
Stephen Iliffe & Christian Wheeldon-UK
David & Jackie Petit -France
Gazz-UK
tdream4ever-USA
Matthew Setchfield -UK
John (sherpajohn) and Vicki (Canada)
Miles and Clare Holman (London - ex-South Africa)
Piotr Millenniummmmmmm (Poland)
Alan & Jim McLean (Scotland)
Ben? (UK)
R.H. Rubin, New York (USA)
Michael Leon
Thomas Rydell
+ 2 Italian fans
I make that 94 people in total.
The time for the meet is from 1 PM onwards (I guess the peak time would be 2-4pm), on Saturday November 1st, 2008.