Just got home. Not even 35 minutes from ticket sales to return to my house (by bicycle).
Here are my tickets!!!
Third Row Center Baby!!!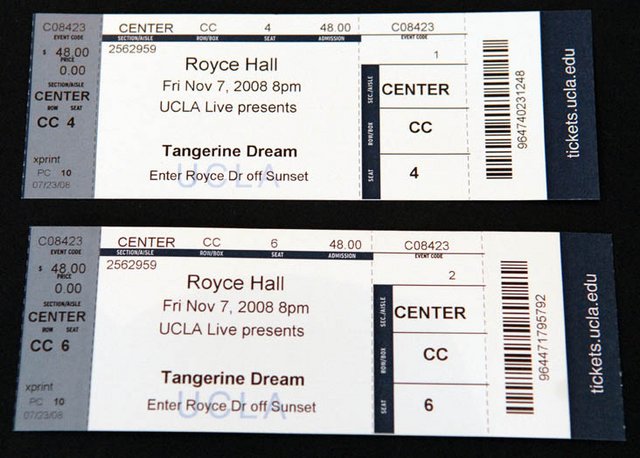 And i had a friend on line with Ticket Master up on 2 browsers to compare tickets and every time he tried, the best he got was Back of Orchestra Row T as a "Best Available" search. I, on the other hand spoke to the guy behind the glass and i got these amazing seats and without all the bulls&*t fees that TM imposes.
In addition, i asked the guy are all the tickets they sell the same as on TM and he said yes. So, someone is holding out on selling great seats when you use TM. Good to know in the future. May be worth it to buy from Ticket box office when ever that option is available, or cover yourself with someone checking TM.
I'm so excited now!!!
Btw, i was also the only one in line for TD tickets. There were 4 others but they were in line for other shows.
Stevo
Got my tickets too! Two big ones! Time now to shop around for some airline tickets. Without those, my tangerine dream tickets are not of much value.
Cant believe I purchased TD tickets. It will take a LONG while for that to sink in.