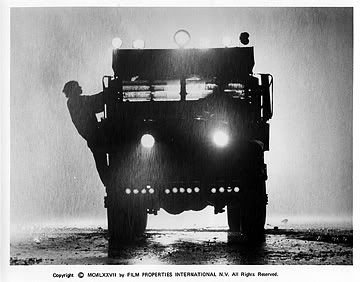 What are your opinions of this soundtrack? TD themselves were never that happy with how their music was used in the film, having produced almost double what eventually appeared in the movie.
When Sorcerer was first shown theatre's in the US a 3 1/2 minute overture by TD was played 'before' the movie was projected. Makes you wonder where all the rest of the music went (it's been debated over for years I know).
I think the music stands up very well, and it certainly works within the movie (even though a few fans don't realise that quite a lot of what they're hearing during Sorcerer is in fact Keith Jarrett's Spheres part 3).
The lost Sorcerer theme:
http://www.subcin.com/sorcerer.html
http://the-archive-plus.blogspot.com/search?q=sorcerer
Sorcerer chronology:
...guesswork I should add:
March 1974: William Friedkin hears TD whilst in Munich for the premiere of the Exorcist. A year later he meets the band in Paris and gives them the script for Sorcerer.
March 1976: TD 'complete' the recording of Sorcerer (TD press release info)
Aug-Sept 1976: Start recording Stratosfear in Berlin
Oct 16 1976: UK press run adverts and review Stratosfear (reviewed in Melody Maker) …'the LP will be out soon'
Oct 19 1976: Spanish Press review Stratosfear
Nov 1976: Stratosfear released
Jan 1977: Edgar and Chris fly to Los Angeles to mix the soundtrack for Sorcerer. Peter Baumann stays in Berlin to do some solo recording
July 1977: Rolling Stone runs adverts for Sorcerer
Variety has an article stating that the movie will be screened with an extra
Reel of overture music (lasting 3 ½ minutes before the movie)